5 Trade ideas excerpted from the detailed analysis and plan for premium subscribers.
Advance Auto Parts, Ticker: $AAP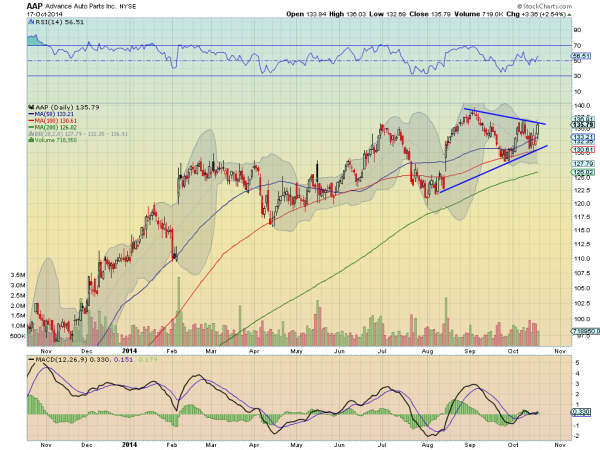 Advance Auto Parts, $AAP, has been building a symmetrical triangle since August. It is testing the top with support for more upside price action from a rising RSI, and the MACD crossed up Friday. The Bollinger bands are also opening higher.
ADTRAN, $ADTN, is a reversal play. After bottoming last week it has bounced and filled the gap. It has a rising RSI, about to cross the mid line and a MACD that crossed up, both supporting continued upward price action.
Aflac, $AFL, is another bottoming and reversal play. The strong move higher Friday came along with a RSI making a new 1 month high and a MACD about to cross up. Good reward to risk at this position.
HollyFrontier, $HFC, is yet another bottoming and reversal play. The Hammer Wednesday was confirmed higher Thursday with a bullish engulfing candle and it saw follow through to the upside Friday. The RSI is turned up and making a new 1 month high with a MACD that is crossing up, both supporting more upside.
United Health, $UNH, printed a Spinning Top doji Wednesday, confirmed it higher Thursday and followed through Friday. At resistance now it has a rising RSI on the edge of the bullish zone with a MACD crossing up, to support a push through.
If you like what you see sign up here for how to trade these, more ideas and deeper analysis.
After reviewing over 1,000 charts, I have found some good setups for the week. These were selected and should be viewed in the context of the broad Market Macro picture reviewed Friday which, heading into the week, sees equities markets looking like they may have dodged a bullet, but still needing to confirm that with a move higher. Elsewhere look for Gold to consolidate with an upward bias while Crude Oil remains biased lower, but is showing a possible bottom. The US Dollar Index looks to consolidate or resume the uptrend while US Treasuries are showing signs of a possible reversal lower. The Shanghai Composite looks ready to resume the uptrend while Emerging Markets are showing signs of a possible reversal higher. Volatility looks to remain elevated and biased to stay there despite the spike and pullback, keeping the bias lower for the equity index ETF's SPY, IWM and QQQ. There charts show signs of reversal higher with the IWM leading, but all need to prove they want to reverse with a move higher this week, otherwise the risk is to the downside. Use this information as you prepare for the coming week and trad'em well.
More at Dragonfly Capital